Home
Details

Written by

Boerries Burkhardt

Category: Uncategorised
Hits: 9
I would like to thank all friends and supporters of my C-2A Greyhound website, Facebook page and Twitter page. For all contributions, ideas, pictures and the many informative stories from the past of the Grumman C-2A Greyhound and the COD.
Special thanks also to the friendly welcome in NAS North Island at the Providers. Just thank you for everything!
I wish all former members of the VR-30, VRC-50, VR-24, VAW-110 as well as the still active and retired VX-20, VRC-30, VRC-40 and VAW-120 shipmates a wonderful Christmas and a safe flight in 2018.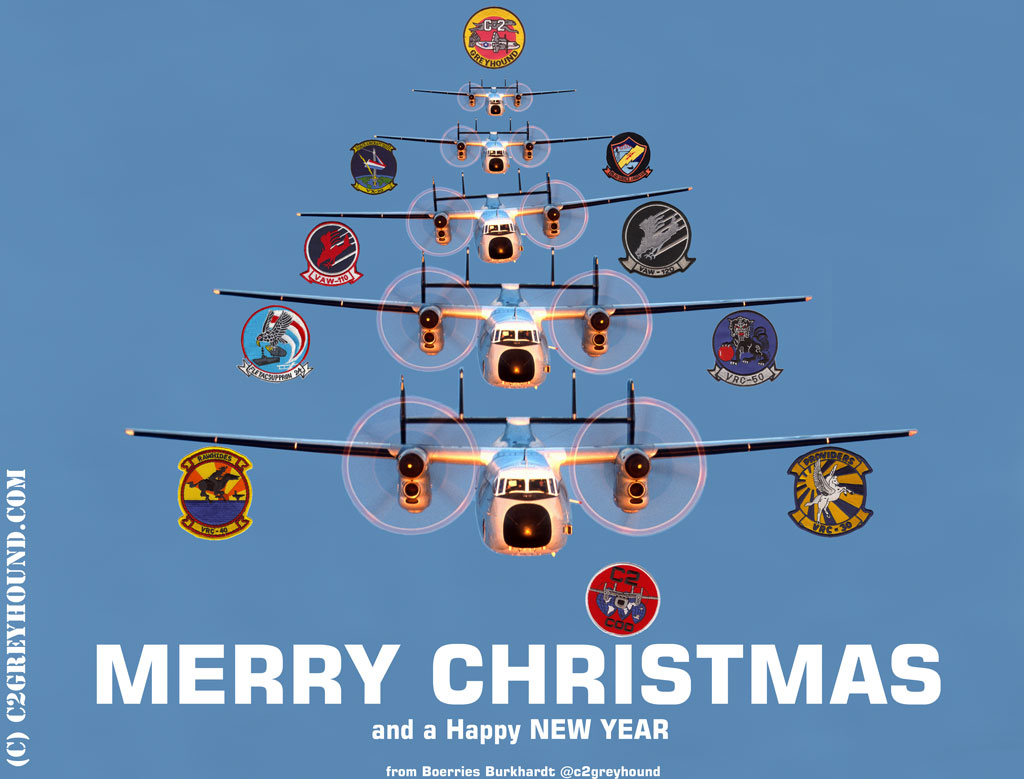 MERRY CHRISTMAS and a great happy HOLIDAY SEASON
(Thanks to Ted Carlson, for modify his photo)
Yours Boerries Burkhardt (@C2Greyhound)
Details

Written by

Boerries Burkhardt

Category: Squadrons
Hits: 962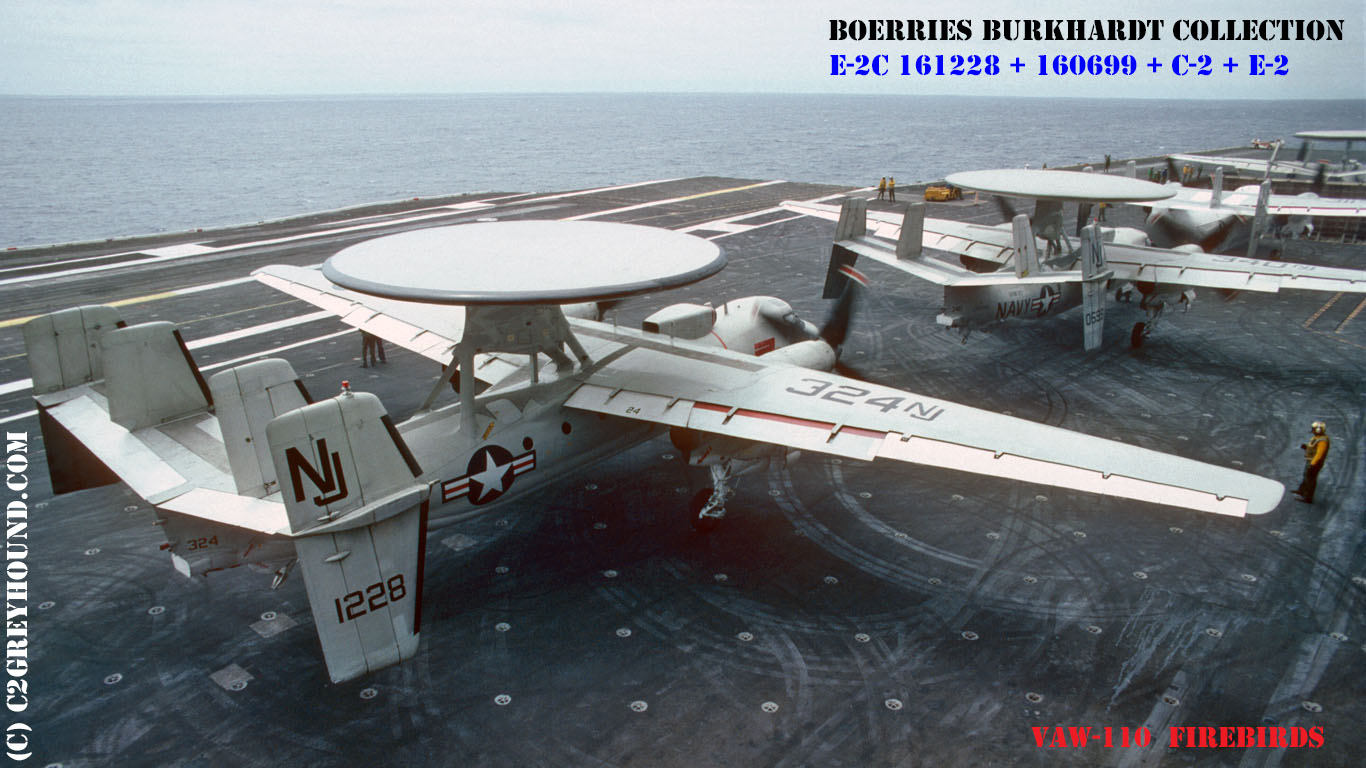 It had its beginnings on 20 April 1967 as Replacement Airborne Early Warning Squadron 110 (RVAW-110), which had been formed when VAW-11 was broken into six separate squadrons. In spite of its primary role in training, RVAW-110 acquired operational skills through deployments aboard the aircraft carriers USS Oriskany (CVA-34), USS Franklin D. Roosevelt (CVA-42), and USS Coral Sea (CVA-43) during the Vietnam War.
1960s
In July 1966, VAW-12 received the first E-2A Hawkeye, and was supplying detachments utilizing two different aircraft aboard ten Atlantic Fleet aircraft carriers in addition to training personnel for those detachments. With over 200 officers and 800 enlisted personnel, VAW -12 was reorganized as an Air Wing, and on 1 April 1967, Admiral T.E. Moore, Commander in Chief, U.S. Atlantic Fleet, commissioned Carrier Airborne Early Warning Wing Twelve with six operating squadrons.
1970s
The squadron received the second generation E-2B Hawkeye aircraft in 1970, followed by the arrival of the E-2C on 31 May 1980. With the delivery of the first Advanced Radar Processing System (ARPS) aircraft in 1978, RVAW 120 trained Naval Flight Officers (NFOs), Flight Technicians and maintenance personnel in both the APS-120 and APS-125 radars. This continued until 1980 when all east coast VAW squadrons completed transition to the APS-125.
1980s
In May 1980, the 2F110 Operational Flight Trainer (OFT) was delivered and ready for use in early May 1981. The OFT is designed to simulate actual in-flight emergencies and train Replacement Pilots handle such emergencies prior to receiving E-2C training flights. The 15F8B Weapon System Trainer (WST) arrived in October 1984 and was accepted for training on 19 November 1984. This latest arrival provided staff and Replacement NFOs with the latest technology for the Grumman Hawkeye. A VAW-110 E-2C in 1989. In late 1987, VAW-110 began training personnel for the Grumman C-2 Greyhound carrier onboard delivery aircraft. Later it also trained crews for new variants of the E-2C Hawkeye.
1990s
After more than 27 years of service under two designations, VAW-110 was disestablished on 30 September 1994. Its duties were assumed by VAW-120.
Details

Written by

Boerries Burkhardt

Category: Squadrons
Hits: 657
 

 
 
NAVAL AIR TEST CENTER
FORCE WARFARE AIRCRAFT TEST
FORCE AIRCRAFT TEST
VX-20
FORCE AIRCRAFT TEST
VX-20
 
 
VX-20, Air Test and Evaluation Squadron Twenty, (AIRTEVRON TWO ZERO) is a United States Navy air test and evaluation squadron based at Naval Air Station Patuxent River, Maryland.
Naval Test Wing Atlantic (NTWL) is the most technically diverse Air Wing in Naval Aviation. Organizationally aligned under NAWCAD, and in turn Naval Air Systems Command, NTWL is composed of Air Test and Evaluation Squadron Two Zero (VX-20), Air Test and Evaluation Squadron Two One (HX-21), Air Test and Evaluation Squadron Two Three (VX-23), Unmanned Aerial Systems Test Directorate (UASTD) and U.S. Naval Test Pilot School (USNTPS).
Details

Written by

Boerries Burkhardt

Category: Bureau Numbers
Hits: 418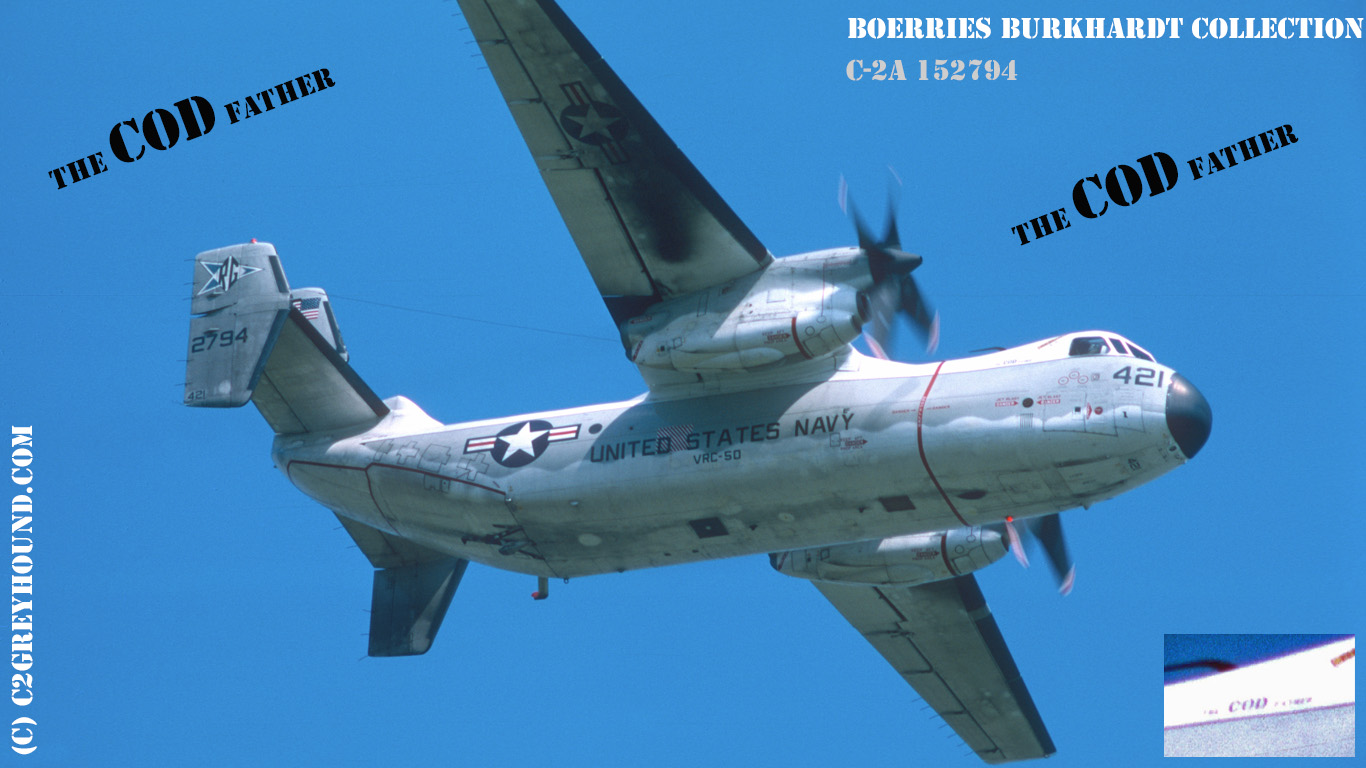 Grumman C-2A Greyhound of the VRC-50, the Foo Dogs. In 1976, several Grumman C-2A Greyhounds got names. Why the BuNo 152794 got this special name is not known to me. This Greyhound was christened "The COD Father". Maybe someone knows the story behind it. ROMEO GOLF 421. Date 1976 at Atsugi, Japan